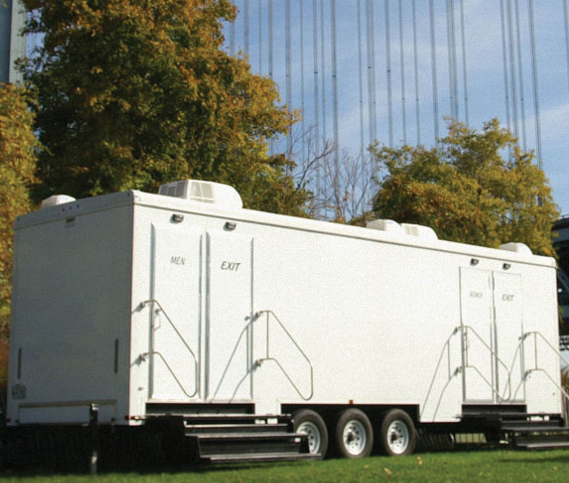 About A Royal Flush:
A Royal Flush is committed to making superior customer service our top priority. In our 30 years in business, we've accomplished this mission by using cutting-edge equipment and providing reliable, cost-effective services to our clients throughout the Northeast and now in southeast Florida.
As one of the country's only family-owned-and-operated portable restroom and toilet trailer companies, A Royal Flush continues to establish new company and industry standards. Our business model has adapted to the changes necessitated by the COVID-19 pandemic and our ownership team now includes a woman for the first time in our lengthy history. Our leadership team is among the most diverse in the industry, featuring three generations of U.S. Marine Corps veterans and members of the LGBTQ community.
The diverse nature of our company enables A Royal Flush to achieve superior service for all customers, regardless of size. Allow our team of experienced industry professionals to provide you with the personalized customer care that is our hallmark.
Company History:
Five friends from Connecticut teamed up in 1992 to create a portable restroom business with 400 units and a simple mission: offer high-quality services and products and exceptional customer support to its clients.
More than 30 years later, A Royal Flush (ARF) has grown into one of the leading family-owned portable restroom and toilet trailer rental companies in the Northeast and Florida. ARF uses its fleet of more than 10,000 portable toilets, 60 restroom trailers, and 80 trucks to provide New York, New Jersey, Connecticut, eastern Pennsylvania, western Massachusetts, and southeast Florida with portable services at everything from concerts and sporting events to construction sites and municipal projects.
Our Philosophy:
ARF believes in a hands-on approach to its clients, always assuring a high-level of support and customer satisfaction with an emphasis on safety, sustainability and service. It's been ARF's philosophy since 1992 that the company will not just meet its clients' expectations, but will work to exceed them. You can rely on ARF!
Our Clients:
A Royal Flush covers most of the Northeast region, offering a variety of services to clients in New York, New Jersey, Connecticut, eastern Pennsylvania, and western Massachusetts. We've recently expanded our services to include the southeast Florida counties of Broward, Miami-Dade, and Palm Beach.
Events: You'll find our portable units and trailers at weddings, concerts and festivals, fundraisers, residential parties, sporting events, and film and production sets.
Construction & Municipalities: Serving the construction industry and local communities is the backbone of our business. We provide restrooms for short-term and long-term projects, large- and small-scale sites, commercial and residential jobs, parks and recreation sites, sports fields, government sites and emergency services.
WHAT MAKES OUR TEAM
EXCEPTIONAL
RELIABLE
You can rely on us!
Our clients confidently choose us because we always get the job done. Punctuality and efficiency are always at the forefront of every project.
ADAPTABLE
We make it happen!
We know that no two projects are alike. That's why we are expertly trained and knowledgeable in creating customized experiences tailored to the specific needs of each and every unique client and event.
SERVICE FIRST
We are here for you!
We champion customer service 7 days a week. Our friendly, professional and knowledgeable approach puts our clients at ease-and sets us apart from our competitors.
EXCEPTIONAL
We exceed expectations!
For more than three decades, our philosophy always has and always will be to exceed expectations-both our clients and our own.
COMMITTED
We take our commitments seriously!
Our commitment to excellence drives everything we do. From unmatched safety and customer service to eco-friendly products and practices, we're dedicated to being a best-in-class resource in the industry.
PROFESSIONAL
We have pride in all we do!
We maintain composure, communication and collaboration in everything we do. We respect ourselves, our fellow team members, and our clients.