At A Royal Flush, we are committed to sustainability and green practices in everything we do, both in the field and in our offices. We strive to minimize our footprint and be an industry leader in supporting green initiatives. A Royal Flush has an expansive inventory of portable restroom units, both for construction services and event solutions, and this range of competitive products requires our team to stay abreast of the latest environmental advancements in maintenance, upkeep, and operational practices.
We strive to minimize our footprint, promote sustainability, and be an industry leader in green initiatives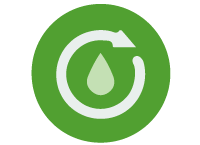 We Use Environmentally Friendly
Non-Toxic Chemicals

Our service technicians go through training to ensure that not only is the industry standard met, but that A Royal Flush sets its standard a level above. We set our technicians up with the tools for success so they can achieve the highest level of cleanliness possible, while using products and chemicals that are safe for our environment.
We use environmentally friendly, non-toxic cleaning agents in the interior and exterior of our portable restroom rentals. Each time we service a portable restroom rental of any kind, the equipment is thoroughly cleaned. Because we use so much cleaning agent, it is important to be sure we are using only environmentally friendly products.
We Use 100%
Recycled Paper Products
As you might imagine, there is a lot of paper products in stock for use at A Royal Flush!  Each portable restroom rental needs to have toilet paper for our clients' use. The toilet paper and paper towels we use are made of 100% recycled paper. But don't forget, those products come in paper packaging also!  We're sure that not only are the actual products we use biodegradable, but so is the packaging!
When purchasing the cleaning supplies we use to maintain cleanliness and safety, we try to buy products that use biodegradable packaging.
We love the idea of supporting our clients that support these efforts, too. We offer a paperless billing option to reduce potentially wasteful practices. We are also 100% digital with our routing and reporting. Going paperless helps to save trees, the average tree can absorb about 2,000 pounds of carbon dioxide in its lifetime! Trees help keep our air cleaner, and our planet healthier – and we care about our planet.
We Have Low Emission
Trucks in our Fleet
Our portable restroom solution business isn't just about maintaining our portable restroom trailers and units, but also about maintaining a fleet of trucks that provide service to those restroom rentals. Our fleet of trucks ranges from smaller vehicles such as a Ford F350 all the way up to a truck as large as a T800 tractor trailer!  Each truck in our fleet is a low-emission vehicle.
We also use eco-friendly diesel in all trucks, which means it burns cleaner with less emissions because we use a higher grade fuel. Overall, our industry is upgrading its profile and quality of gas and A Royal Flush is proud to be at the forefront of those improvements.
All trucks in our fleet are equipped with diesel particulate filter (DPF) systems. A DPR system limits the amount of particulates that are emitted into the atmosphere and A Royal Flush is very committed to the health of our environment. The industrial vehicles we use at ARF are also equipped with a diesel particulate reduction (DPR) system. We strive to do our part to contribute to the overall health of our atmosphere with low emissions for the delivery, pick up, and servicing of our portable restroom rentals.
Our Portable Restrooms
are Made of Recycled Plastic
We utilize equipment with the highest recycled plastic content. An average porta potty can last anywhere from 15 to 30 years before it needs to be replaced. The best part? Most are made from recycled plastic.
Recycling is one of the most important actions currently available to reduce the impact of pollution. Recycling provides opportunities to reduce oil usage, carbon dioxide emissions, and the amount of waste that requires disposal. The use of portable restroom solutions is actually a great way to contribute to the use of recycled materials!
Portable Restroom Rentals
Help to Reduce, Reuse, and Recycle
Studies have found that Americans use approximately 80 to 100 gallons of water every day. More water is used daily by flushing toilets than by showering. In fact, a single running toilet can use as much as 200 gallons a day!  When you utilize a Portable Restroom Solution, you are helping to reduce your carbon footprint by lowering water usage, using recycled and biodegradable products and materials, and therefore doing your part!
For more information about A Royal Flush and our Portable Restroom and Toilet Trailer rental services, please contact 1-877-812-4453 or sales@aroyalflush.com.